Global Beef Trends & U.S. Meat Snack Forecast: A Comprehensive Analysis
America is set to consume more meat, reaching an all-time high in the past decade. In addition, market trends suggest meat consumption in the form of beef jerky and snacks is set to achieve the highest peak since 2012.
How do we know?
Per capita beef consumption has risen from 50 to 59 pounds in the last eight years, an 18% steady rise from 2014 to 2022. In addition, meat snack sales have increased by 40% in the past four years, from about $3.5 billion in 2019 to $4.9 billion in 2022.
Around 128.73 million Americans consumed beef jerky and meat snacks in 2020. The number is expected to reach 132.58 million by 2024 - almost a 4% increase in just four months. Meat snacks and beef jerky consumption in the U.S. has increased progressively. This slow, steady, and leading massive boom growth makes the U.S. one of the highest beef-demanding nations of the year.
From 2012 to 2023, worldwide beef and veal production fluctuated between 57 and 61 million metric tons annually. The forecast for 2023 predicts a production volume of roughly 59.15 million metric tons. The leading contributors to this output are anticipated to be the U.S. and Brazil, with the latter projected to produce around 10.57 million metric tons. On the consumer front, the U.S.
The data further reveals that regular meat snacks and beef jerky are the most popular choices among American consumers.
Beef and veal production worldwide from 2012 to 2023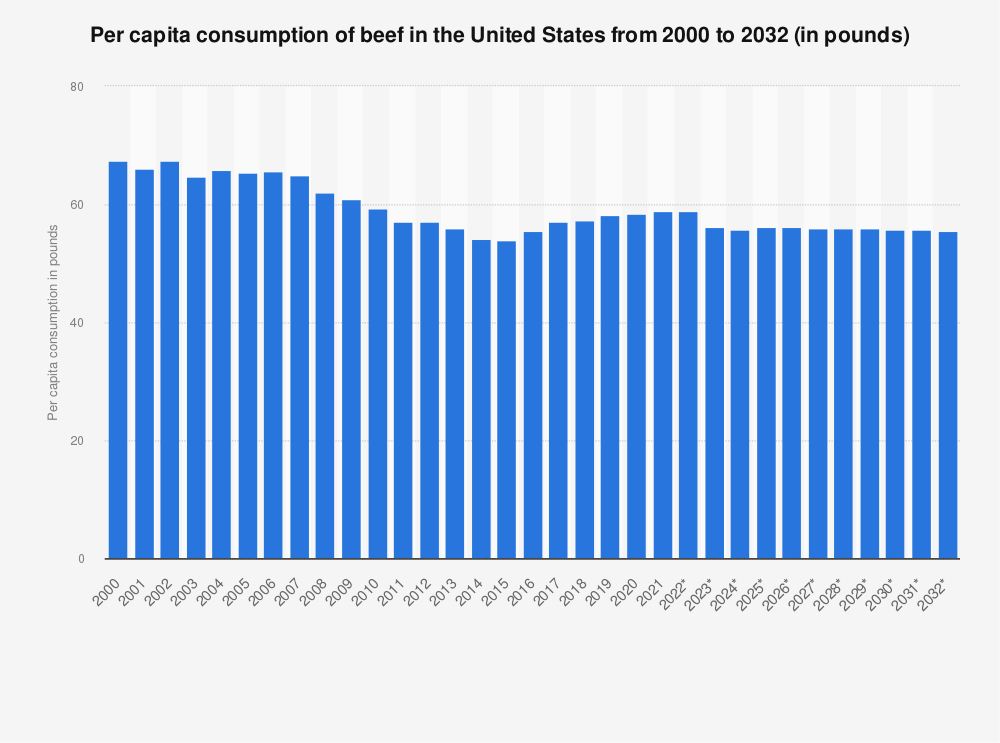 From 2012 to 2022, global beef and veal production fluctuated yearly but stayed between 57 and 61 million metric tons. In 2023, it is forecasted that worldwide beef and veal production will be about 59.15 million metric tons. Figures were rounded to provide a better understanding of the statistic.
Leading beef and veal-producing countries worldwide in 2022 and 2023 (in 1,000 metric tons)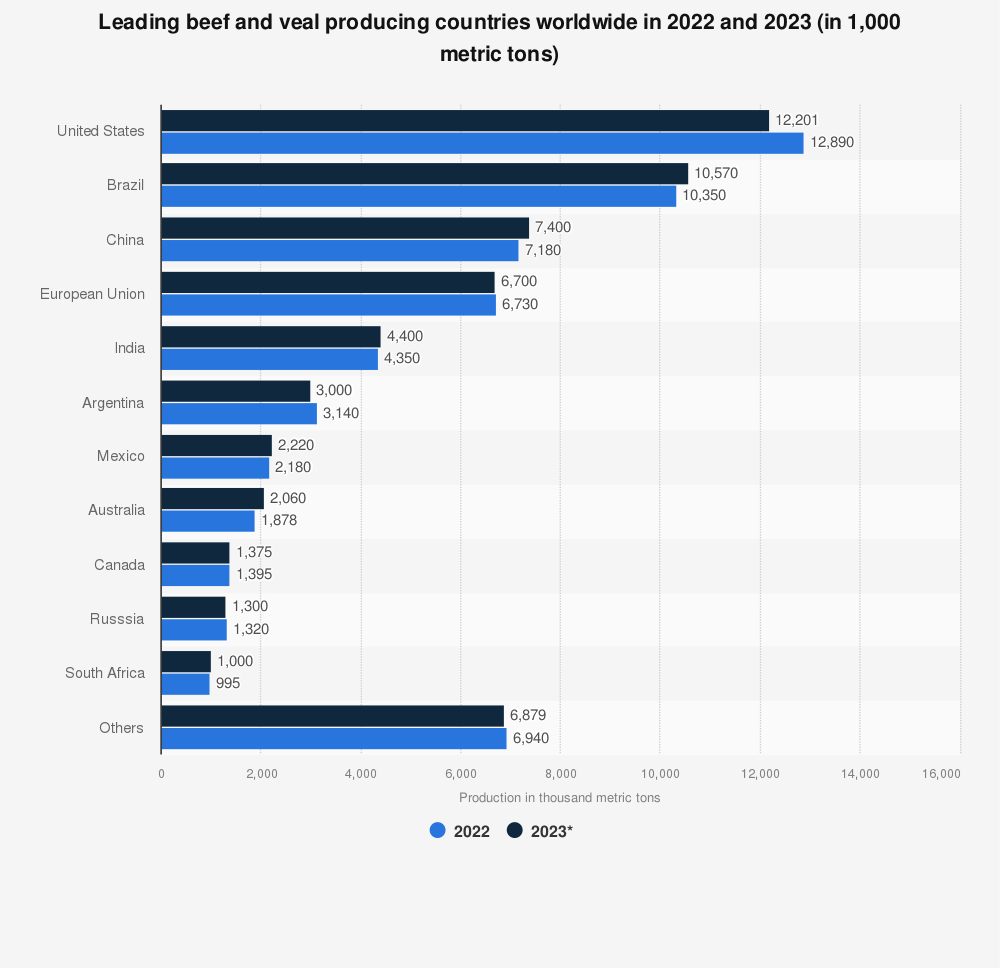 The statistics show the leading beef and veal-producing countries worldwide in 2022 and 2023. In 2023, Brazil and the U.S.A. top the charts with forecasted production of some 10.57 and 12.1 million metric tons of beef and veal, respectively, making the countries the largest producers worldwide.
Sales value of meat snacks in the U.S.in 2019 and 2022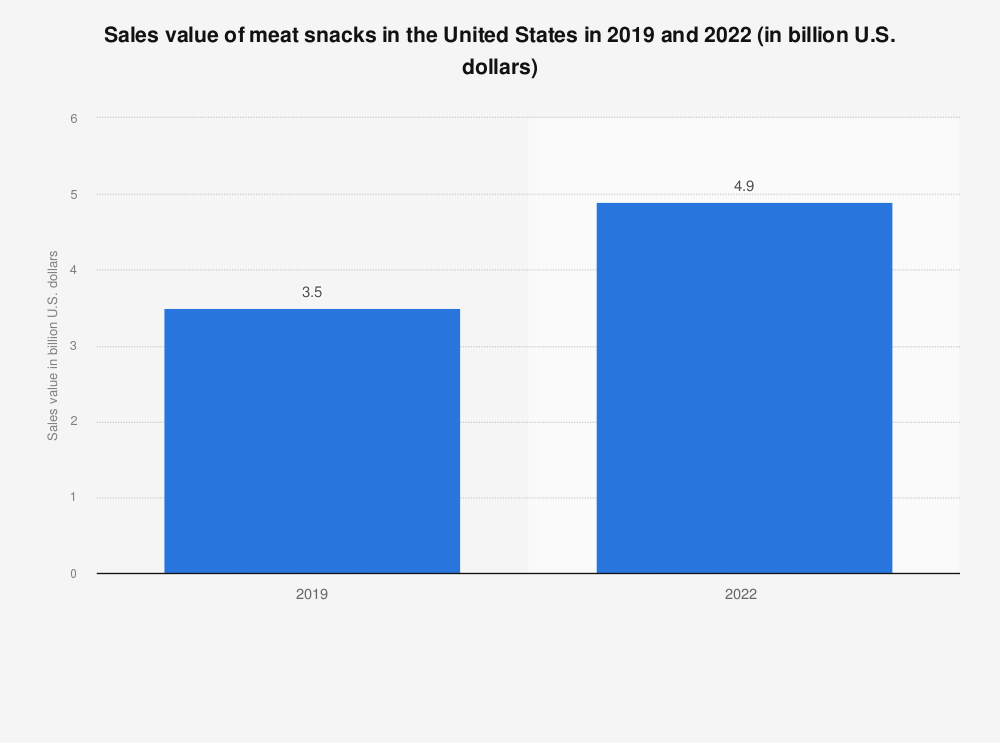 2019 U.S. meat snacks sales amounted to about 3.5 billion U.S. dollars. In consecutive years, it plummeted to 4.9 billion U.S. dollars in 2022.
U.S. population: Consumption of meat snacks and beef jerky from 2011 to 2024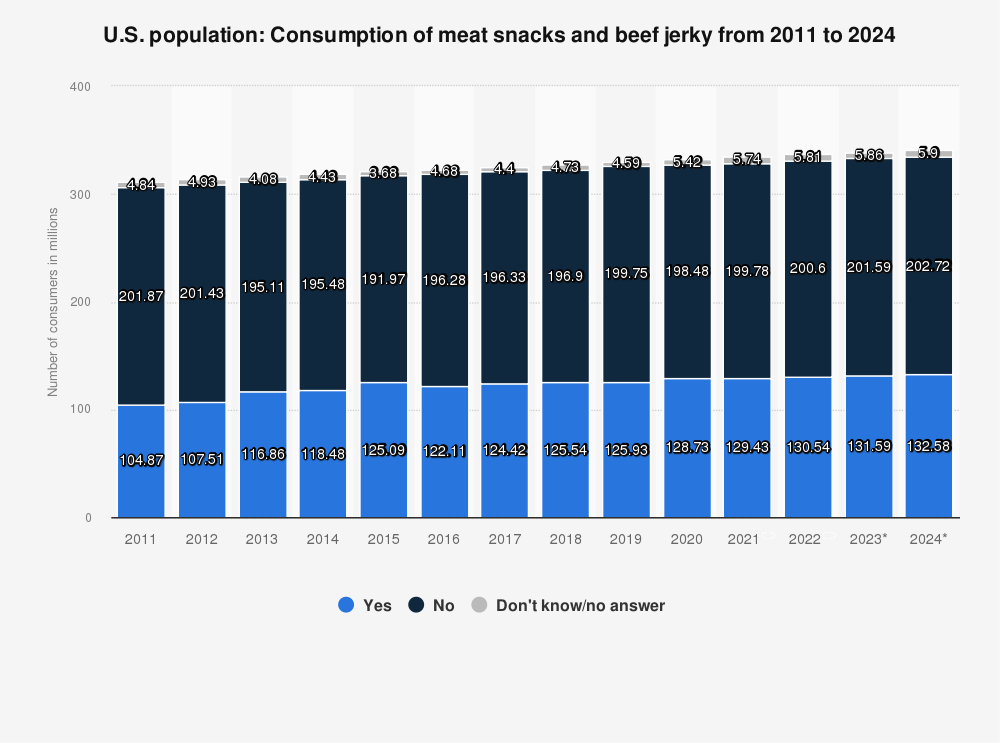 According to jerkybrands.com's survey conducted with data from the U.S. Census and Simmons National Consumer Survey(NHCS), meat snacks and jerky beef consumption has increased by 1.4% from 2020-22. The statistics above show a steady rise from 128.73 million in 2020, 129.43 million in 2021, and 130.54 million in 2022.
Judging by the trends, the total figure is projected to increase to 132.58 million in 2024 from 131.59 million in 2023.
Number of respondents (in millions): 2011: 311.58, 2012: 313.87, 2013: 316.06, 2014: 318.39, 2015: 320.74, 2016: 323.07, 2017: 325.15, 2018: 327.17, 2019: 330.27, 2020 332.64, 2021 335.00 2022 337.34, 2023 (forecast): 339.67, 2024 (forecast): 341.96.
The most consumed meat snacks and beef jerky flavors in the USA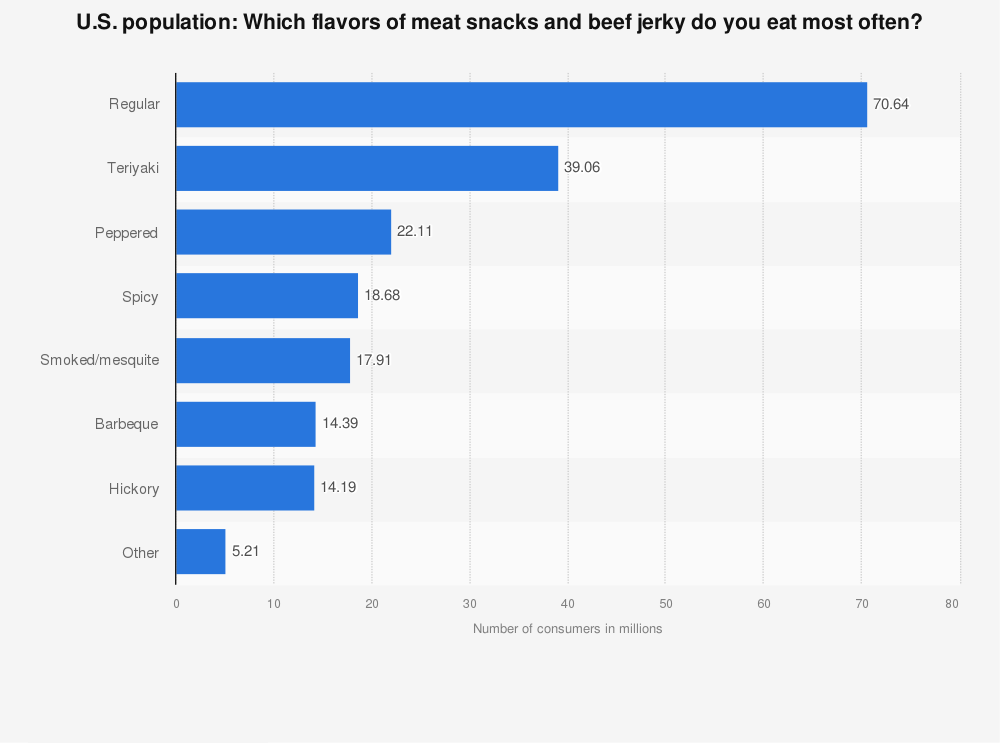 The chart above provides a statistical list of the most and least consumed flavors of meat snacks and beef jerky eaten most often in the U.S. in 2022. "Regular" takes the prize, with 70.64 million Americans consuming regular meat snacks and beef jerky in 2022.
Distribution of fresh meat department sales in the U.S. in 2023 (by category)
All other includes lamb, veal, exotic game/fowl, non-meat items merchandised in refrigerated meat cases, and generic "ring-on" codes assigned to the meat department.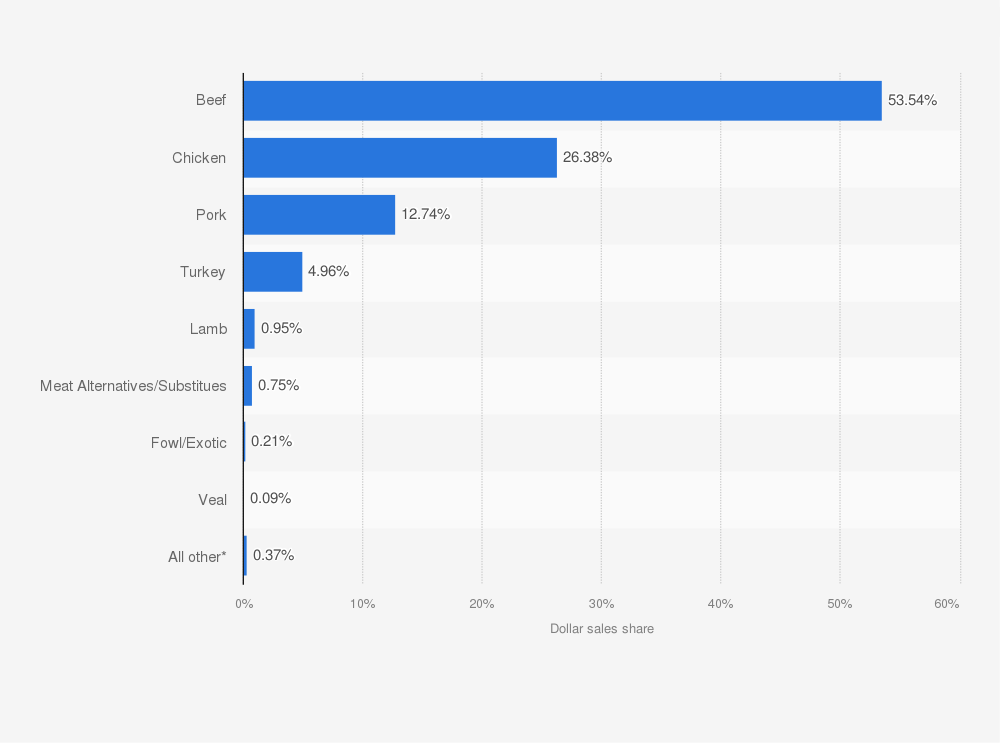 The chart above shows the distribution of meat sales in the U.S. in 2022, broken into nine categories. Beef sales accounted for about 53.5 percent of the fresh meat department sales in the United States.
Per capita consumption of beef in the U.S.from 2000 to 2032 (in pounds)
Figures from 2023 to 2032 are projected as of 2022. Consumption refers to the residual after exports. Non-food use and ending stocks are subtracted from the sum of beginning stocks, domestic production, and imports.
Based on Census Bureau's estimated resident population plus Armed Forces overseas.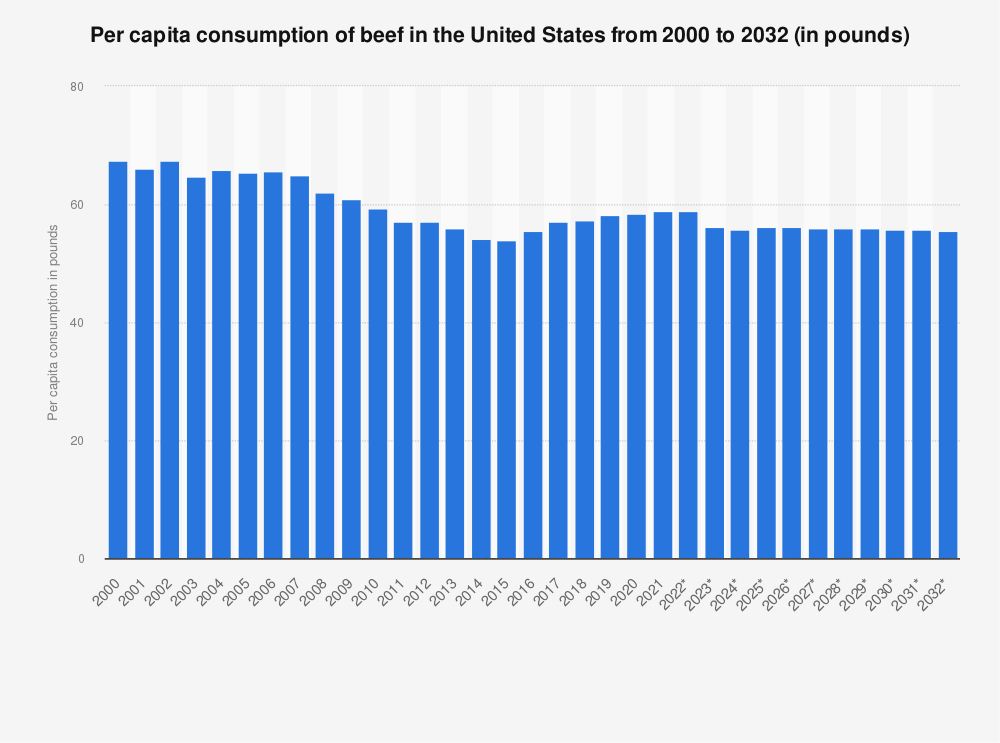 This data shows the per capita beef consumption in the U.S. from 2000 to 2022 and includes a forecast from 2023 to 2032. The U.S. per capita beef consumption amounted to 58.9 pounds in 2021 and 56.1 pounds in 2023. It is forecasted to be reduced to 55.5 pounds in 2032.
How much are American households spending on average per trip on various meat products?
Americans spend over 11 U.S. dollars on average on beef per trip to the grocery store. Americans spend an average of 9.97 U.S. dollars on meat products every year.
In conclusion, understanding the trends and forecasts, it is safe to say that in the year 2023, consumers in the U.S. will demand more beef than the year before, and this information can help businesses strategically plan for an ever-evolving and highly lucrative global beef and veal market.
Methodology
Modeling approach:
A combined top-down and bottom-up approach determines the market size. Therefore, we are starting with the top-down approach.
Forecasts:
We use various forecasting techniques depending on the behavior of the market. Forecasts were created by using the mathematical approach of extrapolation.
Additional notes:
Data is modeled using current exchange rates. The impacts of the COVID-19 pandemic and the Russia-Ukraine war are considered country-specific. The market is updated twice per year in case market dynamics change.
Estimates are based on analyzing various elements related to the ad spending market, including macro-level economic conditions, historical trends of the advertising market, estimates from other research firms, and consumer media consumption trends.